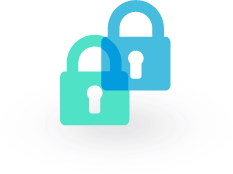 Information security
Your Security Is Our Priority
At bizibox, your information security is our top priority, and we make a big investment in it. We use the most sophisticated means available to secure online activity and safeguard the confidentiality of the information that is fed into the system by applying both internal and external control.
bizibox's security protocol includes the following measures:
 All bizibox's online and mobile services are secured with HTTPS, on a par with the practice in the Israeli banking industry. We also use sophisticated, advanced tools to secure online activity and protect the confidentiality of our customers' information.

All data are encrypted and stored on secure servers at Bezeq International's Data Center and are secured, physically and online, 24/7.

The bizibox system is also audited by independent firms to test its routine security and apply objective monitoring and control.

Users log on to the system using their email address and a personal password. You also have the option of using a "strict access code", which includes a one-time access code that is sent to your mobile.

The bizibox interface does not enable access to the websites of banks and credit card companies and only extracts information to display the business's cash flow.

 The system only displays data, and financial transactions are not enabled.

 To protect the confidentiality of our customers' information, entry to the service is blocked after a number of failed login attempts. Should this occur, users should contact our Customer Support.

If the system has been idle for twenty minutes it will automatically disconnect. However, the system should not be left to automatically disconnect after use. Users are required to click on the Logout button and close the browser.

Once the system is disconnected – automatically or at the user's choice – it can only be accessed by repeating the identification process.
Password Management
Passwords are personal (for company representatives as well) and confidential. Make sure to keep your password safe by keeping it to yourself.
Don't write your password down.
When choosing a password, avoid using simple combinations like birthdays, your partner's name, the company's name, etc.
---

Important!
bizibox's online services allow for the receipt of files and reports. We strongly suggest that users refrain from exposing files retrieved from the bizibox site over file sharing networks. As part of our customer privacy protection policy, no one can receive or view your information without your consent. More information on the subject is available in our Service Agreement. When signing up for bizibox, you will be asked for your confirmation. You can be sure that the information that is being transferred to you is encrypted when a picture of a lock is displayed at the beginning of the address (URL) bar.
---

Notice anything suspicious? 
If anything raises your suspicion (strange phenomena, unusual responses, a request for your bizibox password…) at any stage in the process of signing up or using the system, please notify the Help Desk immediately and follow their instructions.